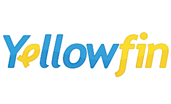 Yellowfin is a global Business Intelligence (BI) and analytics software vendor passionate about making BI easy.
Founded in 2003 in response to the complexity and cost associated with implementing and using traditional BI tools.
Yellowfin is headquartered and developed in Melbourne, Australia, offering an innovative and flexible 100 percent Web-based reporting and analytics solution that is cost effective, easy-to-use and deploy. Yellowfin can reach any platform or device and is a leader in data visualization, Location Intelligence, mobile, embeddable and Collaborative BI.
Yellowfin's mission is to build highly intuitive software that is easy to install, even easier to use, can respond to changing client reporting and analysis needs, and that offers superior Return on Investment through widespread end-user adoption.